Singing Together with Excellence, Integrity, and Joy
Strathmore Children's Chorus (SCC) provides a pre-professional choral experience to students ages 7-18 from diverse backgrounds.
Founded by Artistic Director Emeritus Christopher G. Guerra and led by Artistic Director Michael Wu, five performing ensembles promote self-expression in singers, celebrate the diverse musical traditions of our residents, and engage talented youth in joy-filled and uplifting music-making. SCC also performs with professional orchestras, other choral groups, and featured artists in ensemble performances, allowing Strathmore to provide a living, breathing, singing presence in our community.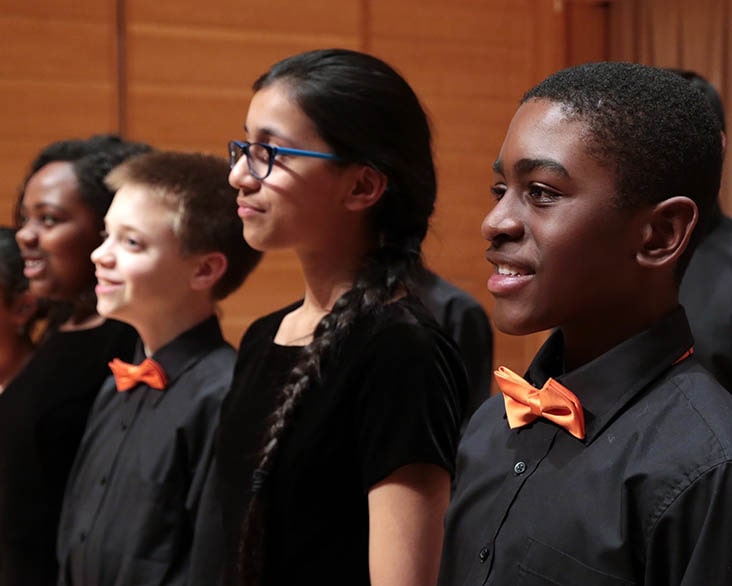 August 19-20
Audition for the 2022-2023 Season
Love to sing? Audition for Strathmore Children's Chorus, where you can join one of our ensembles and sing with other kids and teens your age. Auditions are being held this summer. 
COVID POLICY
Strathmore Children's Chorus (SCC) follows all guidelines from the Centers for Disease Control and complies with State and County health regulations. 
SCC requires students who participate in its youth ensembles to comply with the following:
Vaccinated students provide proof of full vaccination with an FDA authorized or WHO-approved vaccine. Please email the information to sbagheri@strathmore.org by September 10. 

Unvaccinated students must submit a negative PCR test result taken within 72 hours prior to each weekly rehearsal. Please email the results to sbagheri@strathmore.org for entry to rehearsal. 

If a student tests positive, that student is required to alert SCC. SCC will promptly and transparently communicate with families and detail specific protocols as required by that case.  
All students, teachers, staff, and visitors in the building are required to wear masks indoors regardless of vaccination status and will be required to keep their masks on during rehearsal. The masks worn should be in accordance with CDC mask guidelines.
INVEST IN THE ARTS
Your generosity brings distinctive programming and renowned artists to Strathmore's stages and galleries and ensures that everyone in our community can experience the joy and wonder of the arts.
Apologies. There was an error with your donation. Please try again or contact us at donors@strathmore.org or 301.581.5145 for help.