2024 Instructors: 
This year, we are delighted to welcome the following artist/instructors to our staff who bring fresh perspectives, styles, and expertise to 2024: 
CONFIRMED INSTRUCTORS: 
Cathy Fink, Co-Artistic Director 
Marcy Marxer, Co-Artistic Director 
Vinicius Vivas 
Robert Jones 
The Hula Honeys (Ginger Johnson and Robyn Kneubuhl) 
Zoë Jorgenson-Spiers 
Included in Tuition: 
8 hours of skill-based classes 

 

5 hours of Choose Your Own class sessions. 

 

Jam sessions 

 

Admission to the Student and Faculty Showcase Concerts (Sat and Sun)

 

16

th

Annual UkeFest T-Shirt

 
Cancellation Policy
By May 1: Full tuition refund minus $25 cancellation fee 
May 2–June 1: 50% tuition refund 
June 2–July 20: 25% tuition refund 
July 21–Aug 16: no tuition refund 
Scholarships 
Strathmore aims to make music education experiences like UkeFest Teacher Training as financially accessible as possible, and we are able to offer a limited number of partial tuition scholarships. Please note that because our goal is to provide partial assistance to as many people as possible, we are not likely to offer full scholarships. To apply, please send an email explaining your need, your interest in the program, and your requested support amount to uke@strathmore.org. 
Instructors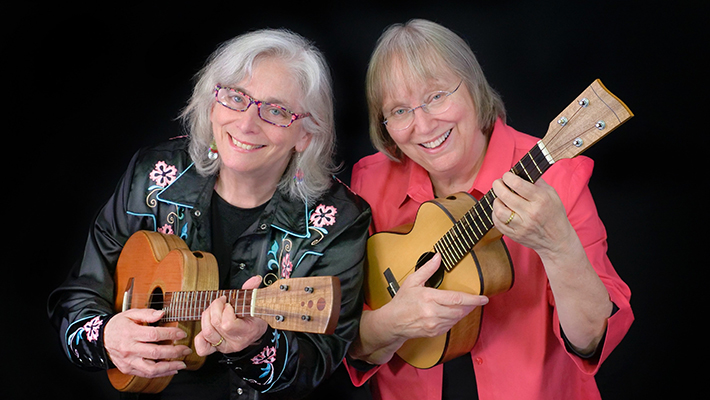 Cathy Fink & Marcy Marxer
Marcy Marxer is a GRAMMY Award winning multi-instrumentalist who has been teaching ukulele since 1986. Her "Ukulele For Kids" online courses have brought up a few generations of young ukulele players. She has directed a seniors uke orchestra, taught at prominent Uke and Music Camps and is co-artistic director of Strathmore's UkeFest. Marcy specializes in chord melody, swing and jazz uke, but plays a bit of everything! She also studied with the grand master of vaudeville, Roy Smeck. Her forte as a social music conductor is only rivaled by her virtuosity on over 20 instruments. Marcy teaches online through www.pegheadnation.com,  www.truefire.com and www.homespun.com. 
Cathy Fink is a GRAMMY Award winning multi-instrumentalist and co-artistic director of Strathmore's UkeFest with Marcy Marxer. She loves teaching all levels and has created a series of courses on playing Clawhammer Ukulele, kin to the old-time banjo style. Cathy has taught at countless music camps including Puget Sound Guitar Workshop, Midwest Ukefest, The Augusta Workshops, and Palm Springs Ukefest. Cathy & Marcy released two duo recordings of all ukulele music, "Rockin' The Uke" and "Wahoo." They have released a total of fifty albums between them and over 50 instructional courses on ukulele, banjo, guitar, mandolin, harmony singing, and even yodeling. Her online instruction is available at www.truefire.com, www.homespun.com, and www.pegheadnation.com. She has written numerous articles for Ukulele Magazine.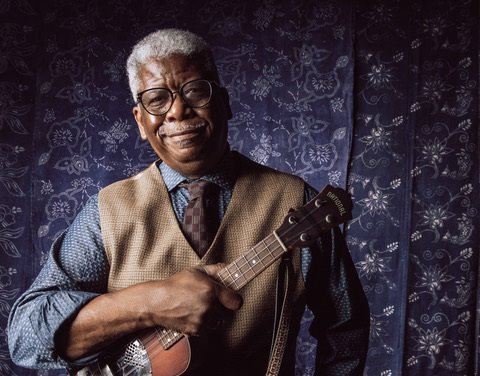 Robert Jones
Rev. Robert Jones, Sr. is a native Detroiter and an inspirational storyteller and musician celebrating the history, humor, and power of American Roots music. His deep love for traditional African American and American traditional music is shared in live performances that interweave timeless stories with original and traditional songs. For more than thirty years Robert has entertained and educated audiences of all ages in schools, colleges, libraries, union halls, prisons, churches, and civil rights organizations. At the heart of his message is the belief that our cultural diversity tells a story that should celebrate, not just tolerate.  
Rev. Robert Jones makes his home in Detroit, Michigan but he performs throughout the United States, Canada, and Europe. An award-winning multi-instrumentalist, he is accomplished on guitar, harmonica, mandolin, banjo, fiddle, and ukulele. He has recorded six albums of original and tradition songs. Robert is the former host of the award-winning radio programs "Blues from the Lowlands" and "Deep River" broadcast on Detroit Public Radio's WDET-FM Detroit. He has taught music history courses at Wayne State University in Detroit, and he serves as a member of the affiliate faculty at Boston's Berklee School of Music. Jones has taught and performed for a number of folk music organizations including the Ashokan Center, Summer Acoustic Music Week, Fiddle Hell, the Houston Folklore Society and more. In recent years Robert wrote, performed and recorded a one man show entitled "An Evening With Lead Belly", and in recent years Robert has been a featured artist at the Abraham Lincoln Presidential Museum (Springfield, IL), Rutherford B. Hayes Library (Fremont, OH) and Gerald R. Ford Library (Grand Rapids, MI).  Robert is also a frequent performer and presenter for The Henry Ford Museum and Greenfield Village (Dearborn, MI).  In 2018 Robert received a Kresge Arts Fellowship for Music Composition and Performance.   
The late legendary Detroit Free Press columnist, Bob Talbert wrote about Robert: "Perhaps the world's most highly educated blues musician, an ordained minister, a longtime DJ, and a living encyclopedia of blues history, the Reverend Robert Jones is comfortable among juke joint loud talkers, fancy-hatted church ladies, and PhDs alike."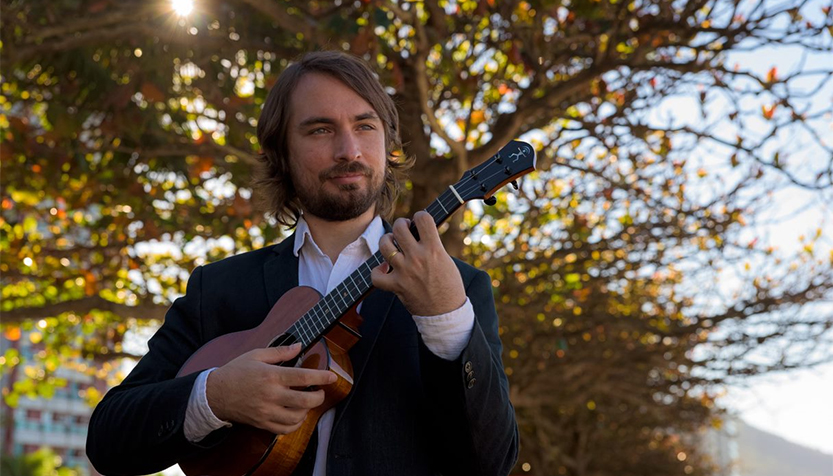 Vinícius Vivas
Vinícius Vivas is a Brazilian ukulele player from Rio de Janeiro (the land of Bossa Nova). He has performed in Blue Note Rio, presenting a solo ukulele performance and as part of a gypsy jazz ukulele trio, Manouke Gypsy Swing. He wrote the first Master's Dissertation about the ukulele in Brazil in one of the biggest Brazilian universities, UFRJ. Vinicius also played gigs and workshopped in South Korea, Finland, and the United States.
Vinícius was born and raised in Brazilian Music. He knows how to bring the Samba and Bossa Nova swing to the ukulele. He also plays Jazz, Rock, Pop Music, and Choro (Brazilian Instrumental Musical Genre) .
Vivas has traveled to Vancouver to study how to teach the ukulele with James Hill, being part JHUI Teachers Program and Masterclasses. He also played at online American ukulele festivals like Gaithersburg UkeFest 2022-2023 and Ukulele Festival Hawaii International Spotlight 2021. 
His own Ukulele Online Course helps many Brazilian students to learn the ukulele, from beginners to advanced levels.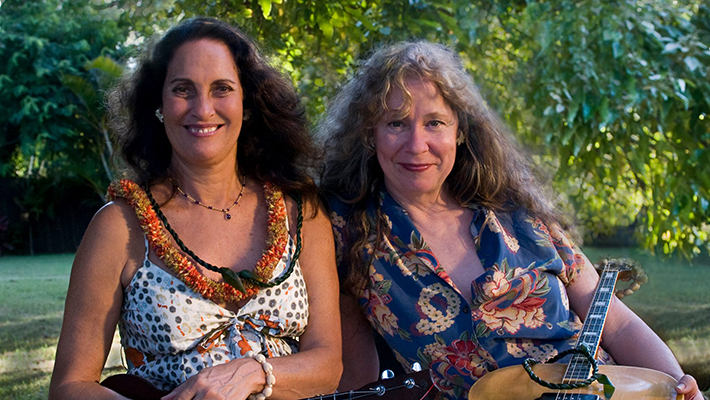 The Hula Honeys
GINGER JOHNSON 
Hailing from the island of Maui, Ginger Johnson is a lifelong musician and singer. The tall half of the Hoku award winning duo with Robyn Kneubuhl, The Hula Honeys, Ginger plays baritone ukulele and tenor guitar in a jazzy style all her own. Johnson finds baritone to be the perfect distillation of guitar and ukulele—melding the deep mellow tones of guitar with the ease, comfort, and versatility of the uke. 
ROBYN KNEUBUHL 
Robyn is an accomplished musician and dancer who comes from an esteemed musical lineage. Her mother, Emma Veary, was a headliner at the Monarch Room of the Royal Hawaiian Hotel, and the Halekūlani. Her mother's musical gifts were not wasted on Robyn, who embodies the beauty of the golden days of Waikīkī through her music and dance. Robyn is a composer, performer, hula, and ukulele instructor, generous with her time and talent, and eager to share her knowledge with her students wherever she may be. Robyn currently resides on Maui and is a member of the "Hula Honeys".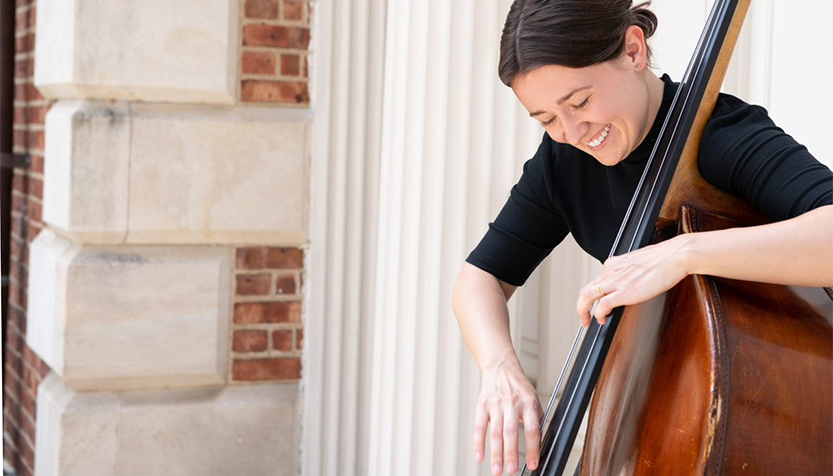 Zoë Jorgenson
Zoë Jorgenson will be UkeFest's house bass player and bass teacher. Well known in jazz circles, Zoe is a Strathmore Artist in Residence (2024), a string teacher in public schools, and a freelance bassist at venues such as Blues Alley, the Kennedy Center, Strathmore and more. She sings jazz, folk and other styles and will add a smile to every session she's in.