HOW CLASSES WORK 
Classes by Skill Level 
These are 2-4-day classes from 10am–12pm EST Saturday through Tuesday. These are continuous classes based on skill level, which means you will choose a class and stay with it for either two (2) or four (4) days. There will be pre-registration for these classes, and you must sign up for one of them. If you are an advanced player, you must send in your 2–5-minute video to uke@strathmore.org and receive approval by the Artist Directors to be placed in that class. If you find you are not suited for a class during the first day, you can switch classes within the first 15 minutes by leaving the class and joining another one.
Walk-in Classes  
These classes are one-hour choice classes and do not require pre-registration. Feel free to hop around as you wish.
(BF) = Baritone-Friendly 
Baritone Friendly classes are often taught on tenor ukuleles, but baritone chord charts or tabs are provided, and the instructor will have a baritone ukulele handy for answering any questions. For other classes, baritone players should either play a tenor/concert/soprano Ukulele or use a Capo on the 5th fret.
Skill Levels
CONFIDENT BEGINNER  
You know C-F-G, G-C-D, and A-D-E7 chords and can do a simple strum while changing these chords and keeping a steady, slow beat. 
We will not be hosting novice or total beginner classes this year. However, If you are not at the Confident Beginner level but want to join this class, you can learn from many sources in advance, including a free month of lessons from Marcy Marxer via Peghead Nation. Use code MarcyM to claim.
INTERMEDIATE 
Comfortable playing 3-4 chords in 3-4 keys. Ready for some jazz chords, ready for some snazzier right-hand techniques, ready to explore a variety of repertoires on the uke.
ADVANCED 
This will be a truly advanced and fast-moving class. Class will be limited to 10-12 students. To audition, please send a 2-min video showing your advanced uke skills to uke@strathmore.org.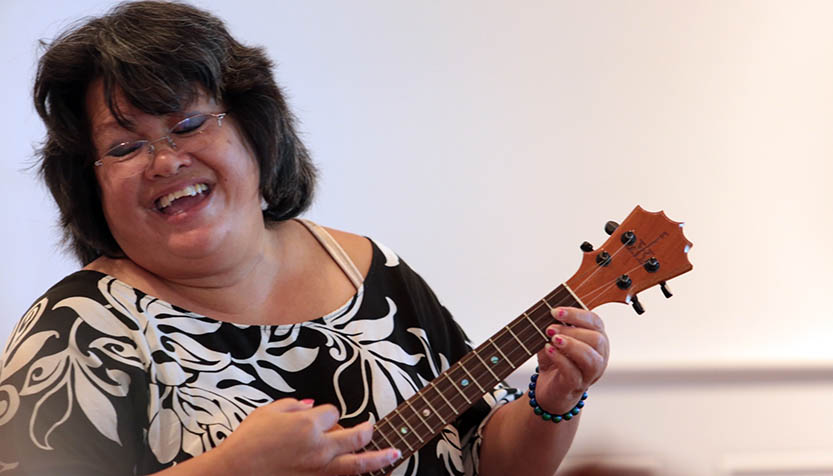 Enjoy an evening performance by both professional and amateur ukulele players, starting with a half-hour open mic for our UkeFest students followed by an amazing lineup of our esteemed instructors. 
LEARN MORE & BUY TICKETS