Discover AMP—Your place to come together for great music and creative cuisine at Pike & Rose, an urban-minded, Metro-accessible neighborhood on Rockville Pike. Powered by Strathmore, AMP puts a premium on authentic live music experiences, helping you discover your new favorite artists and elevating your night out beyond the Beltway.
We've introduced a new, more spacious seating arrangement, fresh new menus, and a calendar of new artists to discover! Stay tuned and follow us on Facebook, Instagram, or Twitter for the latest. 
Located in the thriving and rapidly changing North Bethesda District in Montgomery County, AMP is the nexus of live entertainment in this growing neighborhood. Menus change seasonally, and music changes nightly, featuring an eclectic mix of genres in an upscale casual atmosphere that will entice neighbors from across the street and music fans from across the DMV. Located on Metro's red line at the North Bethesda (formerly White Flint) stop, AMP is easily accessible by car or public transit. 
The venue has a 2,800 square foot concert space and 1,100 square foot lounge. AMP is also available for corporate meetings, holiday parties, weddings, and other private events.
The ticket office can be found on level 1 of the Old Georgetown Road Garage.
AMP is run by Strathmore, a 501(c)3 nonprofit organization. Profits from AMP support Strathmore's mission to present and produce exemplary arts programs for diverse audiences, create dynamic arts education experiences, and nurture creative ideas and conversations that advance the future of the arts.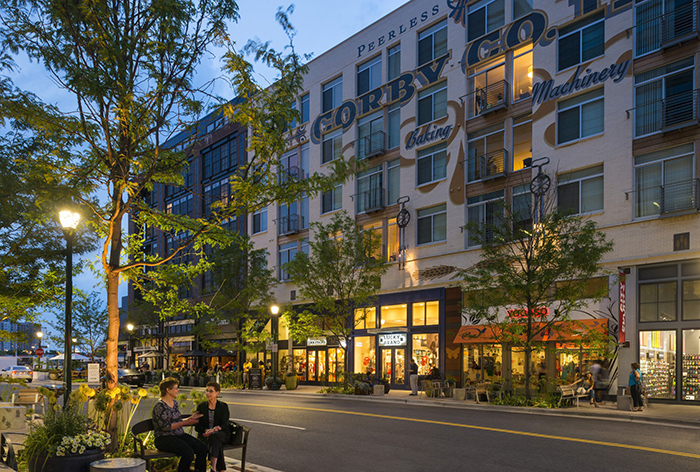 In the Neighborhood
Pike & Rose
AMP is the heart of the Pike & Rose neighborhood in Montgomery County on Rockville Pike. Our neighbors include some of the best local retail, restaurants, and entertainment options in the county, as well as residential properties. 
Explore Pike & Rose