Leave it all behind at the Eighties Cabaret! Feel the "Rhythm of the Night" with a celebration of pop from its high-hair-heyday. Strathmore Cabaret 2014 spins the decade from Dionne Warwick to Michael Jackson into an evening of signature cocktails, synth sensations and dinner featuring the best of the decade that gave us Pretty in Pink.
Saturday, October 25, 2014, 7-10PM
Featuring
Chelsey Green and the Green Project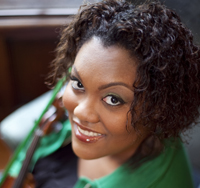 "...illustrative, energetic violinist...
[with] exceptional promise, passion, and electricity."
– Derrick Hooks, Smooth Jazz Ride
With Strathmore Artists in Residence
Deborah Bond
2012-2013

Nate Foley
2011-2012

Invoke
2014-2015

Rochelle Rice
2014-2015

Mark Meadows
2014-2015

Lena Seikaly
2009-2010
$150 for individual tickets ($90 tax deductible)
$500 for patron sponsorship ($346 tax deductible)
Includes: Two event tickets, reserved performance seating and program recognition at Cabaret, and two tickets to an upcoming AIR performance
Why should you Go-Go? Proceeds go to fund programs that make Strathmore The Cure for emerging artists, providing opportunities INXS of what they'd find on their own. Each of these professional development programs enables Strathmore to inspire and train local, young musicians and visual artists on the rise through collaboration, professional mentoring, and performance opportunities.
RSVP by October 15
Cocktail Attire
The Music Center at Strathmore
Lockheed Martin Lobby
5301 Tuckerman Lane
North Bethesda, Maryland
Parking in Grosvenor-Strathmore Metro Garage
For information on sponsorship opportunities, call 301-581-5160.