Member Exhibition
National Capital Art Glass Guild
Jurors: Michael Janis, Kirsty Little, Eileen Martin
Tue, September 5–Sat, October 28
The National Capital Art Glass Guild (NCAGG) was founded in 1978 as a community of artisans interested in stained glass. As the glass arts have expanded, the Guild and the interests of its members have grown to include any and all forms of glass art, including but not limited to blown, mosaic, kiln-formed (fused), and lamp-worked glass. Through meetings, workshops, presentations, and exhibitions, the NCAGG provides a forum for the exchange of ideas and experiences and promotes in the community at large all aspects of glass as an art and craft.
Every year Guild members conduct classes in many glass techniques and present programs to interested schools, organizations, and community groups through our outreach efforts. We hold regular planning meetings and social events such as special presentations from visiting artists, field trips, an annual picnic, and an annual meeting/auction. We also organize glass art shows for our members every year at local galleries and cultural institutions.
Banner: GoodLordBird by April Shelford
Visit Strathmore.org/Mansion to find current Mansion hours and plan your visit.

@Exhibitions.At.Strathmore
JURORS
Michael Janis
Michael Janis is a Co-Director of the Washington Glass School & Studio. An architect for twenty years, in Chicago, IL and Brisbane, Australia, his glass artworks showcase his very disciplined approach to the medium. In 2005, Janis was made Co-Director, overseeing the studio's many site-specific and public art commissions.
As the child of a Chinese/Filipino immigrant and grandson of Greek and German immigrants, the family histories and struggle to assimilate has been a perpetual source for his narrative artwork that deals with understanding identity.
Awarded a Fulbright Scholarship in 2012, Janis went to England's University of Sunderland and taught at the UK's National Glass Centre where he became an Artist-in-Residence at the Institute for International Research in Glass (IIRG).
Massachusetts' Fuller Craft Museum mounted a solo show of Janis' glass panels and sculpture in 2011, where they have his artwork in their permanent collection. Janis' artwork is also in the permanent collection of the Art Institute of Chicago, the Tacoma (WA) Museum of Glass, Florida's Imagine Museum, Fort Wayne, IN, Museum of Art, as well the artwork collection at the US Embassy in Bucharest. The DC Commission on the Arts & Humanities awarded him the 31st Annual Mayor's Arts Award for "Excellence in the Arts".
In 2022, Janis' glass sculpture, made in collaboration with Washington, DC artist Tim Tate, was featured in the 59th Venice Biennale of Art collateral exhibition "Glassstress".
Connect with Michael Janis at www.michaeljanis.com
Kirsty Little
Born in England and presently living in DC, Kirsty Little is a former Circus aerialist from the UK for two decades when a move to USA in 2011 led her to find a new path to sculptor in the art world. She is drawn to working with themes of womankind, organic anatomy and the struggling environment. She makes sculpture with porcelain, wood and wire, and mixed media installation. Her art activism focuses on raising awareness of the world plastic pollution crisis and Women's Equality through huge installations. She is Artist in Residence at Otis St Studios. She teaches aerial yoga. She is in the Guinness book of World Records with the most aerialists choreographed on silks. She is a founding member of Ch/Art Chevy Chase artists group and chair for two years. Recent solo shows of fine art include The Phillips collection DC, The Fisher Gallery NOVA, Honfleur gallery and Zenith Gallery DC. She has curated 5 shows into the WOW project – 7 former shop windows in Friendship Heights. She is currently lead artist on the RightNOW project – a women's equality interactive public art installation with over 1000 participants in MD.
Connect with Kirsty Little at Kirstylittle.com or Instagram @kirstylittlejoy
Eileen Martin
Eileen Martin opened her studio in 1997 after spending 24 years with a variety of contractors and government entities. She had always been fascinated with glass, and when her career stopped being fulfilling, she decided to take some stained glass classes. She found that she was quite good at it, so she left her job; she opened a studio and took on commissions. A few thousand panels (literally) later, she has expanded her repertoire beyond lead and copper foil stained glass fabrication and glass painting, to fused and kiln-formed glass, lamination and sand-blasting. She also works with a variety of other media including clay, metal, rubber, concrete, encaustic, paper, stone and wood in her sculptural pieces.
Eileen is one of the very few people in this region who do on-site restoration of stained glass, so you can periodically find her on scaffolding in a church in the area. Her commission work is highly sought after. She exhibits in shows either independently or as a member of the National Capital Art Glass Guild or the Washington Guild of Goldsmiths, which has shows in the Maryland, DC and Virginia region.
Eileen also teaches art (fused, stained, mosaic, and mixed media) at numerous locations in the Metropolitan area and acts as a juror for glass, enamel, and pottery guild shows and exhibitions. She works with the Montgomery County Public school system as a guest lecturer, and from those contacts she has been able to work with hundreds of students, enriching their art experiences and her life.
Connect with Eileen Martin at www.martinglasscreations.com 
Opening Reception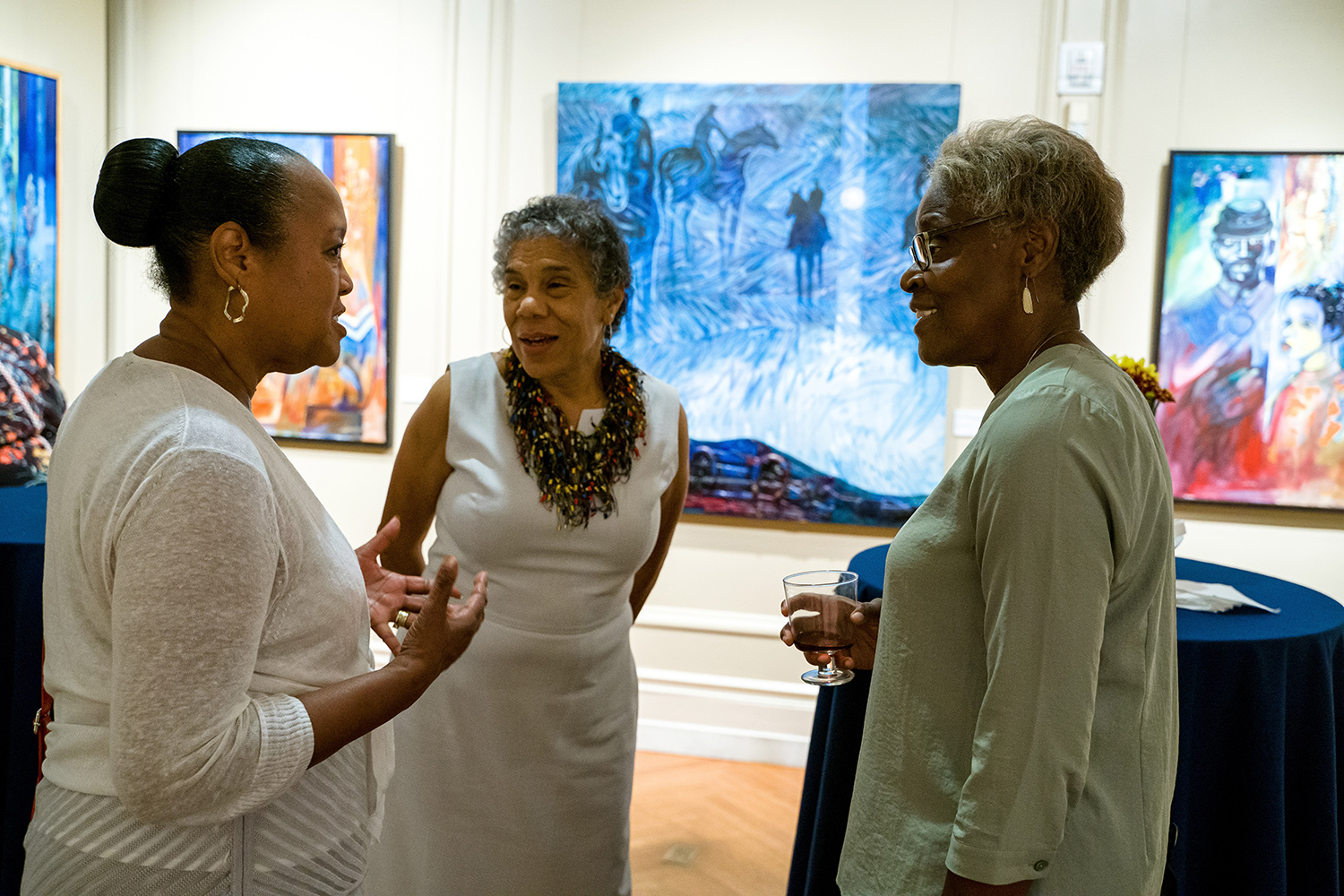 Thu, September 14 | 7pm
RSVP
Please note that we expect demand to exceed our capacity for this opening. Thank you for your patience and for moving through the galleries at a reasonable pace to allow others to enjoy the exhibition and greet the artists. 
Support Exhibitions
Your gift brings renowned artists, exhibitions, and curators to our galleries—all while keeping admission free of charge.
Apologies. There was an error with your donation. Please try again or contact us at donors@strathmore.org or 301.581.5145 for help.