Allegro Kitchen
Located on the Promenade Level in the Music Center, Allegro Kitchen is where our culinary artists shine—with flexible, creative menus built around local, seasonal ingredients. Led by our new Executive Chef LaTasha Stevenson, the mouth-watering dining experience begins 90 minutes before each Concert Hall performance. Additionally, bars are open before the show and at intermission with sweet and savory items as well as beer, wine, and our signature cocktails.
Specific menu details are shared via reminder emails the week leading up to each show to help you plan your night. Offerings will blend perennial favorites with adventurous new items, customized to the uniqueness of the evening's performance. The chef will feature customizable specials like slow braised pulled pork with fried brussels sprouts, crispy onion strings, and pickled jalapeños. Or enjoy a creamy vegetarian risotto bar with parmesan cheese, sautéed mushrooms, roasted red peppers, green peas, and fresh basil. This is just the start of the fantastic new food and drink experience that's sure to be a highlight of your night out.
See you at Strathmore—where the arts are everywhere!
JANUARY MENU
Beef Chili with Cornbread
Jamaican Curry Vegetable Soup with Roti
Pan Roasted Honey Garlic Chicken Thighs with Butternut Squash
Cajun Vegan "Krab Cakes"
Sundried Tomato Orzo
Winter Vegetable Ragu
Plus an assortment of cold items including chicken salad sliders and salads.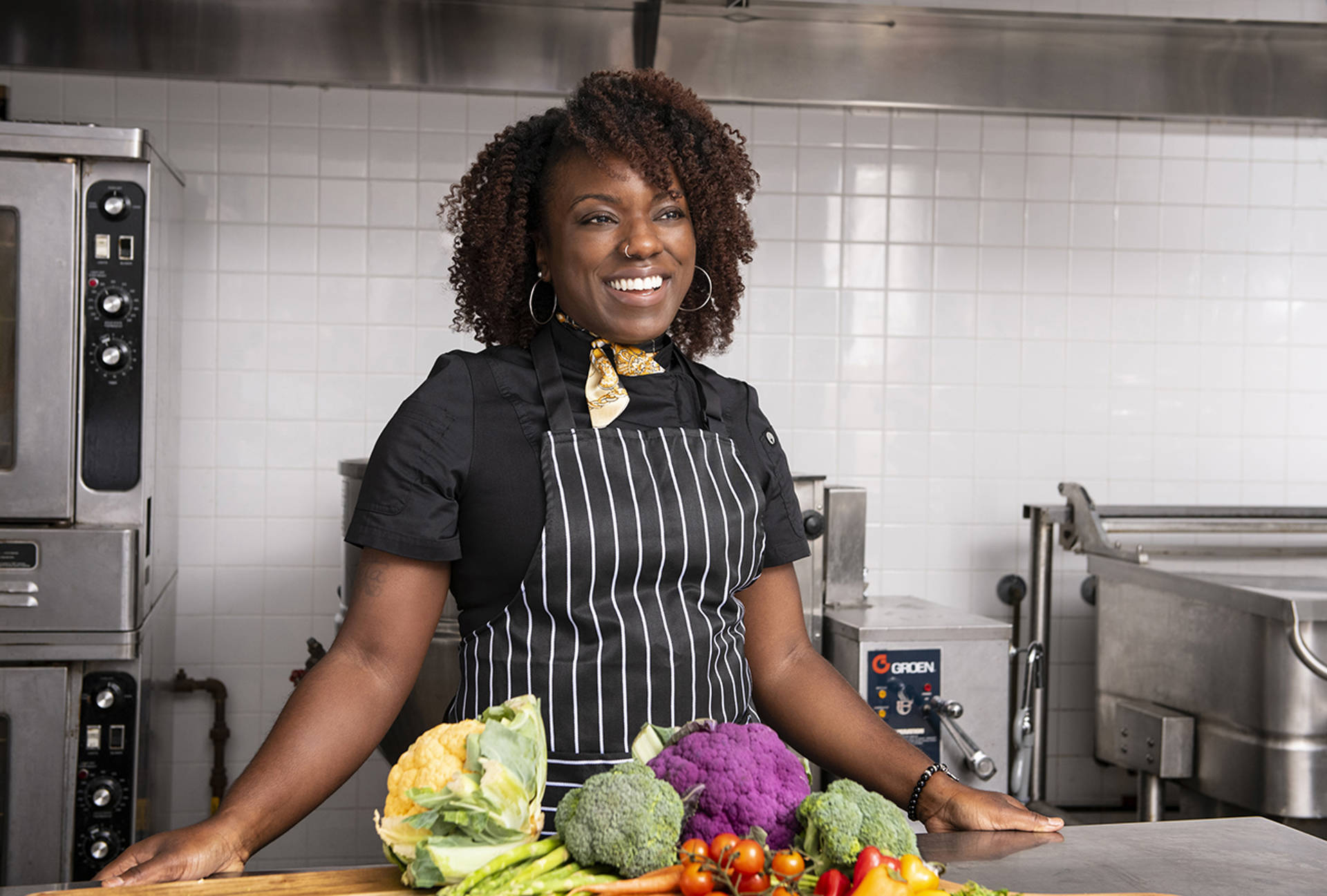 About the Chef
Chef LaTasha Stevenson has had a passion for cooking since childhood. Born and raised in Philadelphia, she marveled as her mother made perfect biscuits from scratch without ever measuring the ingredients. She grew up helping her grandmother snap beans and peel sweet potatoes on the porch and knew, by the time she was fourteen, that she wanted to become a chef.
After graduating from The Art Institute of Philadelphia and completing a formative internship at the Disney Culinary Program that prepared her for the pressure of a high-volume restaurant environment, she moved to the Washington, DC area to begin a fruitful culinary career. Over the last 16 years, she worked her way up through various chef and assistant positions to take on managerial and executive chef roles.
Chef LaTasha sees the Executive Chef position at Strathmore as an opportunity to break away from the conventional and engage in cultural expression through cuisine. She plans to focus on fresh, local, sustainable ingredients, showcasing decency, dignity, and love in the food served at the Allegro Kitchen. Stevenson draws from her roots in southern US, African, and mid-Atlantic cuisine, and delves into other cultural and culinary traditions to provide an exciting and well-rounded experience for patrons' palates.