Strathmore Artists in Residence Take Flight
The Strathmore Artist in Residence (AIR) program, part of our Institute for Artistic and Professional Development, is designed to help launch artistic careers. There is nothing more satisfying to us than seeing the amazing accomplishments of our alumni. While we can't take all the credit for their achievements, we are so proud to have been a part of their journey.
2/15/21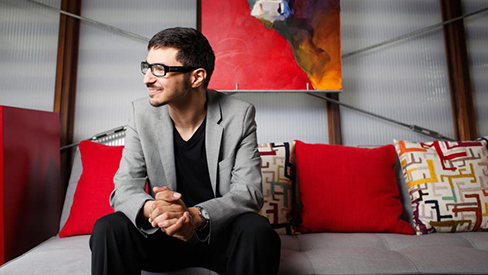 Elijah Balbed
Since participating in the Strathmore AIR program, Elijah has completed residencies at The Kennedy Center (Jazz Ahead) and the historic, now defunct Bohemian Caverns. In 2018, Elijah was named a 202Creates Resident Artist. In 2019, Elijah and JoGo Project won a Wammie Award for Best Go-Go Song ("Dear Draylen"). Elijah is currently an Artist in Residence and Guest Instructor with the Bethesda Blues & Jazz Youth Orchestra.

Over the last decade, Elijah has also established himself as an international artist. He has performed in Japan, gone on three UK tours with the legendary Blackbyrds, held a 5-week residency through Jazz at Lincoln Center in Doha, Qatar, and performed several times on the Capital Jazz SuperCruise. In 2018 and 2019, Elijah went on cultural diplomacy tours in Russia on behalf of the US State Department. During these tours, Elijah performed for sold out audiences at venues such as Tchaikovsky Hall, Esse Jazz, Ever Jazz, Astrakhan Opera House, and more. Elijah has shared the stage with Gloria Estefan, Lalah Hathaway, Maysa, Patti Austin, Dr. John, Mike Phillips, Backyard Band, and Rare Essence.
Currently, Elijah is working on a social justice inspired body of work called The Karma Suite, a multimedia project featuring music, political speeches, and moving videos about the current moment. This project was selected for the Finals of the DC Jazz Prix, a prestigious international band competition organized by the DC Jazz Festival.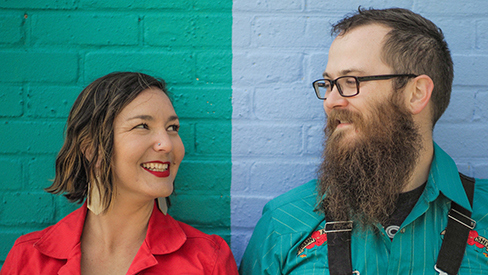 Bumper Jacksons
Entering a Bumper Jacksons Duo show is warm and inviting, like opening the front door of a neighbor who has just taken bread out of the oven. Roots jazz rhythms and country swing harmonies are vignetted by stories and sounds of Appalachia. Come in, take a seat, and be woven into a musical story that never stops being told. Bumper Jacksons' co-founders Jess Eliot Myhre and Chris Ousley lead with their signature sun-dappled vocal harmonies, and the multi-instrumentalists trade off on strings and horns, playing fresh originals and dusted-off tunes from their great-grandparent's coat closet. But don't let their disarming folksiness fool you: their performance is silver-polished and highly acclaimed.
Bumper Jacksons have been honored multiple times as "Artist of the Year," "Best Country/Americana Artist," and "Best Folk Artist" by the Washington Area Music Awards. As individuals, both Jess and Chris are award-winning songwriters and regular Maryland State Arts Council grant recipients.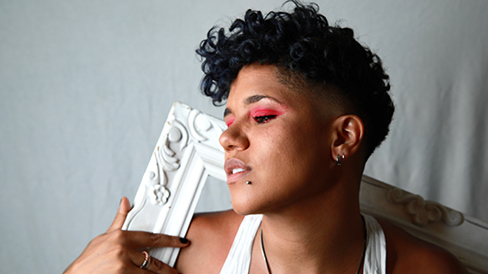 Be Steadwell
Be Steadwell is a musician, filmmaker, storyteller from Washington, DC. In her live performances, she utilizes looping, vocal layering, and beat boxing to compose her songs on stage. Be's original music features earnest lyricism, and affirming LGBTQ content. Be's goal as a musician is to make other black girls, queers, introverts and generally marginalized weirdos feel seen and loved.
With a BA from Oberlin College and an MFA in film from Howard University, Be's love for music expands into filmmaking. Her film Vow of Silence screened in film festivals around the world, including Black Star, HBO's OutFest, The Schomburg Center, Inside Out Toronto, and Fringe Fest UK.
Be has shared stages with fellow artist activists Big Freedia, Nona Hendryx, Nikky Finney, and Gina Yashere. In 2017, Be sang at The Women's March on the National Mall behind Maxwell and Janelle Monae in Toshi Reagon's Big Lovely Band. Last year Be composed the music for The Alvin Ailey Dance Company's production of the gone. Also in 2019, Be wrote and directed the musical, A Letter to My Ex. Be's musical tells stories of love—narrating one character's journey through the year following a breakup.
In 2020, Be released her newest album, Succulent. You can also find Be on her Patreon channel.
SUPPORT YOUNG ARTISTS
Your generous support has a lasting impact on young artists in our community. Together, we help fuel their creativity, give them confidence, and support them when it matters most.
Apologies. There was an error with your donation. Please try again or contact us at donors@strathmore.org or 301.581.5145 for help.